Macromolecules = molecules having molecular weight greater than 1000 Dalton's are called macromolecules. Example -- proteins, lipids, carbohydrates, nucleic acid
Hydrocarbon = molecules containing both Carbon and Hydrogen. There can be other molecules also present but Carbon and Hydrogen are must for a molecule to be called hydrocarbon.
3 major molecules in which we can find hydrocarbons are ---: Proteins -- these are made of amino acid and amino acids from nucleotides. Nucleotide consists of a Pentose-sugar , nitrogen base and phosphorus. The structure of pentose sugar and nitrogen base consist of carbon and hydrogen in its basic structure.
Carbohydrates -- these are made up of carbon, hydrogen and oxygen.
Nucleic acids -- these are DNA and RNA. They are composed of nucleotides. And nucleotides consists of nitrogenous base, pentose sugar and a Phosphate. Nitrogen base and pentose sugar is made of carbon Hydrogen in their basic structure and also consist of other elements like N, O.
3 macromolecules that have carbon and Hydrogen or hydrocarbon are : protein, carbohydrates, nucleic acid.
Functional groups found in different types of Macromolecules are ----
hydroxyl -- -OH ; in pentose sugar ,
carbonyl -- -C=O ; in , carbohydrates like fructose.
carboxyl -- -COOH ; in amino acid like Glutamic acid ; amino -- -NH2 ;
in Nucleic acid -- nucleotide cytosine, Thymine, etc , phosphate -- -P ; Nucleic acid - the nucleotides involved in Nucleic acid consists of pentose sugar, Nitrogen base and a Phosphate group ,
methyl group -- -R group it is found in amino acid that is the monomer of protein, in carbohydrates
Carbon organization in fructose and glucose monosaccharides. Fructose and glucose are isomers i.e. having same molecular formula but different molecular structure. Image below shows Structure of glucose and fructose :
Molecular formula -- C6 H12 O6
Molecular structure :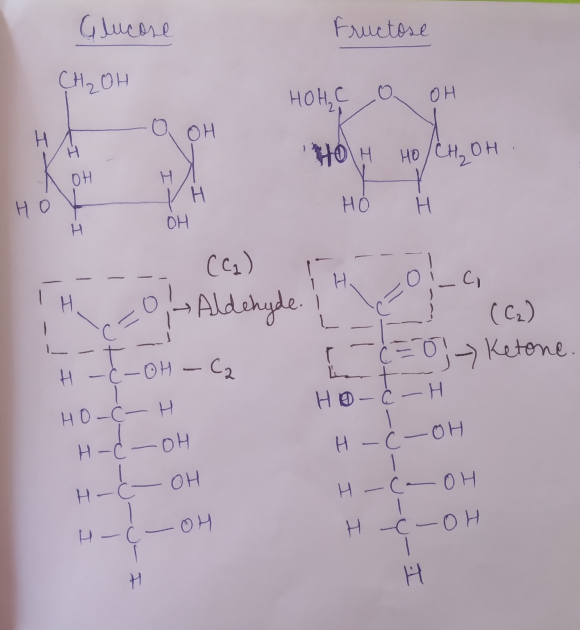 Difference --- C1 carbon in glucose is an aldehyde and C2 consist of a hydroxy gruop while in fructose C1 is also aldehyde but C2 is ketone. They differ at C2 carbon.
Glycosidic linkage in disaccharide like Sucrose --- the glycosidic linkage in sucrose is a result of dehydration reaction.
Sucrose is made of monomers glucose and fructose and they both bond by undergoing dehydration reaction as shown below in image :

As the bond is formed 1 molecule of water is released.
---