Capillaries are the smallest blood vessels.
The average diameter of a capillary is 8 µm.
Exchanges (of oxygen, carbon dioxide, fluids and various molecules) between blood and tissue take place through the walls of the capillary plexus
structure of Capillaries :-
The wall of a capillary is formed essentially by endothelial cells that are lined on the outside by a basal lamina (glycoprotein). Overlying the basal lamina there may be isolated branching perivascular cells (pericytes), and a delicate network of reticular fibres and cells. Pericyte or adventitial cells contain contractile filaments in the cytoplasm and can transform into other cells.
types of Capillaries
There are two types of capillaries:
1. Continuous
2. Fenestrated
Continuous Capillaries Typically, the edges of endothelial cells fuse completely with those of adjoining cells to form a continuous wall. Such capillaries are called continuous capillaries. In continuous capillaries exchanges
of material between blood and tissue take place through the cytoplasm of endothelial cells.
Continuous capillaries are seen in the skin, connective tissue, muscle, lungs and brain.
Fenestrated Capillaries
In some organs the walls of capillaries appear to have apertures in their endothelial lining, these are, therefore, called fenestrated capillaries.
The 'apertures' are, however, always closed by a thin diaphragm (which may represent greatly thinned out cytoplasm of an endothelial cell, or only the basal lamina). Some fenestrations represent areas
where endothelial cell cytoplasm has pores passing through the entire thickness of the cell. In the case of fenestrated capillaries
diffusion of substances takes place through the numerous fenestrae in the capillary wall.
Fenestrated capillaries are seen in
renal glomeruli, intestinal villi, endocrine glands and pancreas.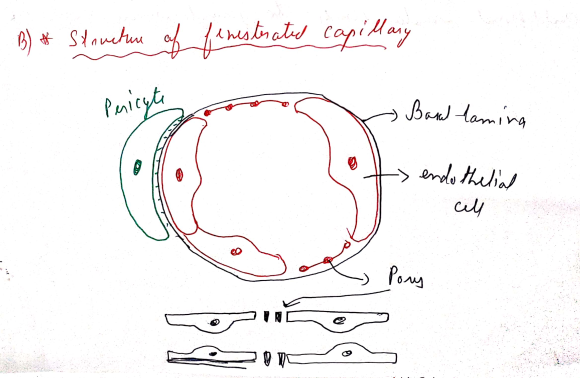 ---