Concept:.
Transportation in Plants
Transportation is a vital process in plants.
The process involves the transportation of water and necessary nutrients to all parts of the plant for its survival.
Food and water transportation takes place separately in plants.
Xylem transports water and phloem transports food.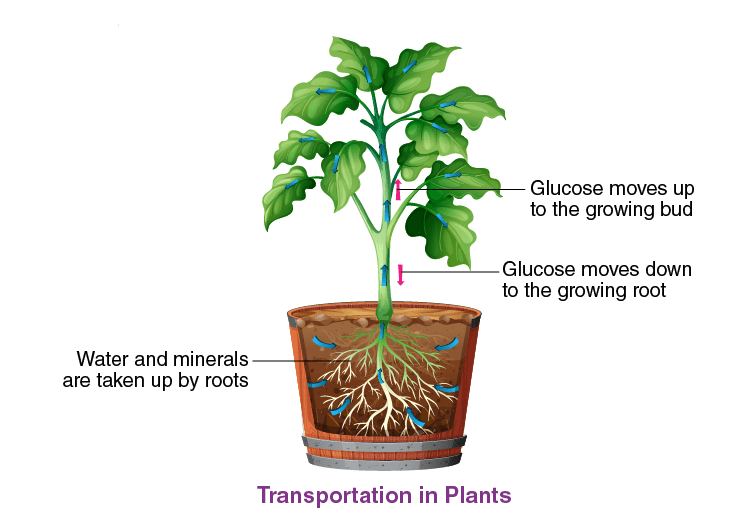 Xylem
Xylem tissue transports water in plants from root to all other parts of the plant.
Xylem tissue is made up tracheids, vessels, xylem fibres and xylem parenchyma.
The flow of water and minerals through xylem is always unidirectional.
Root Pressure
Conduction of water through the xylem, from roots to upper parts of plants, is due to many forces acting together
One of the forces responsible for this is root pressure
Root pressure is osmotic pressure within the cells of a root system that causes sap to rise through a plant stem to the leaves
Root pressure helps in the initial transport of water up the roots.
Transport of Water
Water is absorbed by the roots and is transported by xylem to the upper parts of the plant.
Imbibition is a process in which water is absorbed by the solids. E.g. seeds take up water when soaked.
Osmosis is a process where water moves from the area of its lower concentration to the area of its higher concentration.
At the roots, the cells take up ions by an active process and this results in the difference of concentration of these ions.
It leads to movement of water, in the root cells, by osmosis.
This creates a continuous column of water that gets pushed upwards. This is root pressure.
Transpiration contributes to the upward movement of water by creating a staw effect.
It pulls the water column upwards as there is a continuous loss of water from leaves.
All these forces act together for water transport through the xylem
---
Transportation in Plants.
The process involves the transportation of water and necessary nutrients to all parts of the plant for its survival