High-temperature Hydrogen Attack refers to the loss of strength and ductility of steel by high-temperature reaction of absorbed hydrogen with carbides in the steel, resulting in decarburization and internal fissuring. It occurs in carbon and low-alloyed steels exposed for an extended period to hydrogen under high pressure and at high temperature.
To find the right material to work with High temperatue hydrogen under pressure industry uses figures that contain
"operating limits for steel in hydrogen service to avoid decarburization and fissuring,". These figures are called as Nelson curves illustrate the resistance of steel to hydrogen attack at high temperatures and pressure. This plotted data is based on experience gathered since the 1940s. It was originally plotted by G. A. Nelson, using two parameters—operating temperature and partial pressure of hydrogen. The figure is shown below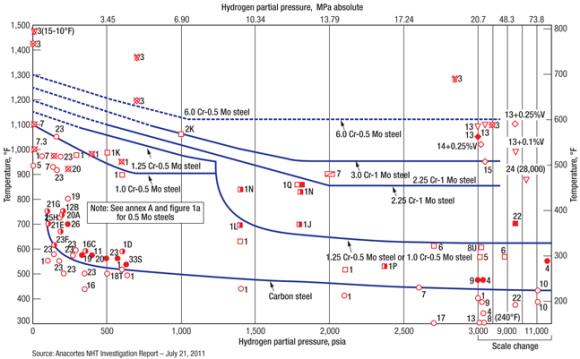 Using this figue it is clear that we need Steel containing atleast between 1.90 - 2.60 wt% Chromium amd 0.9 - 1.1 wt% Molybdenum in it to withstand above 700 F and 2310 psia.
---